Audi Q7: Intersection assistant
Description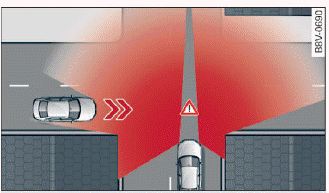 Fig. 123 Detected cross-traffic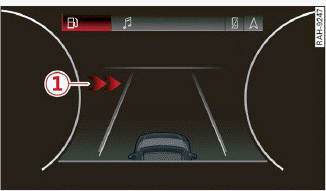 Fig. 124 Instrument cluster: directional display from the intersection assistant
General information
The intersection assistant can warn the driver of approaching cross traffic in complex intersections > fig. 123.
The system monitors intersections and exit ramps using the sensors installed in the vehicle that detect the front and side areas around the vehicle. Moving objects that are approaching from behind, such as cars, are detected within the limits of the system

. The system can also warn the driver of a potential collision with detected approaching cross traffic in intersections and exit ramps with poor visibility.
Requirements for using the intersection assistant:
The speed must not be higher than approximately 18 mph (30 km/h).
The "D" selector lever position is selected.
Displays, warnings, and braking
Display: the red arrow (1) can indicate the direction from which the cross traffic is approaching.

The indicator in the upper display only appears when the parking aid is activated. For vehicles with peripheral cameras only in the Front and Front corner camera views. The display only appears in the instrument cluster => fig. 124 when the Driver assistance display is open in the on-board computer.

Warnings: the message Cross traffic! can warn about critical cross-traffic when driving forward. There may also be an audible signal.
Automatic brake activation: if you do not react to a warning, a brief braking by the system can warn you of a potential collision with an approaching object when driving forward at speeds up to approximately 6 mph (10 km/h).
Switching the intersection assistant on and off
You can switch the system on and off in the MMI.
Messages
If

or

is displayed when there is a malfunction, the intersection assistant functions may be unavailable or may be limited.
A message that indicates the cause and possible solution may appear with some displays. The weather conditions may be too poor or a sensor may be covered. Clean the area in front of the sensors and try to turn the system on again later.
If the malfunction remains, drive to an authorized Audi dealer or authorized Audi Service Facility immediately to have the malfunction corrected.
WARNING
Observe the safety precautions and note the limits of the assist systems, sensors, and cameras.
The intersection assistant will not provide alerts about people and cannot warn you about every type of approaching objects, such as cyclists. Always monitor the traffic as well as the vehicle's surroundings with direct eye contact.
The system may not react at all or it may not react on time when vehicles are approaching very quickly.
Tips
The coverage areas of the sensors > fig. 123 are diagrams and do not represent a true-to- scale image of the sensor ranges.
The system complies with United States FCC regulations and ISED regulations
READ NEXT:
Description Applies to: vehicles with emergency assist General information Within the limits of the system, emergency assist can detect inactivity from the driver. In these instances, the system wil
Depending on the vehicle equipment, various parking aids will help you when parking and maneuvering. Parking aid The parking aid plus assists you while parking using audio and visual signals to warn y
SEE MORE:
Applies to: vehicles with adaptive cruise control Fig. 112 Operating lever: setting the distance When approaching a vehicle driving ahead, the adaptive cruise control system brakes to match that vehicle's speed and then adjusts to the set distance. If the vehicle driving ahead accelerates, then th
In this manual, Audi provides important information, tips, suggestions, and warnings for using your vehicle. "Audi" refers to AUDI AG, the respective importer in a country, as well as joint ventures. It has always been Audi's policy to continuously improve its products. Audi reserves the right to m