Audi Q7: Operating the peripheral cameras
Applies to: vehicles with peripheral cameras


Fig. 131 Upper display: left: rear view. Right side: 3D surroundings.
On vehicles with peripheral cameras, you can select among different views.
The camera views can be controlled with the touch display. In certain views, you can zoom in or out on the displayed area, and move, tilt, or rotate the 3D surroundings.
Selecting the views
To display the entire selection bar, tap the current view (2) or swipe at the edge of the selection bar from left to right.
To select a view, press (2) - (8) or tap in an area to show the vehicle in the side view.
To select a 3D surroundings view, press the symbol (1). Then select the desired 3D surroundings view (9) - (11).
Zooming in and out on the views
Applies to: 3D surroundings view
To zoom in or out on an area, place two fingers on that area and push them apart or pull them together > fig. 137, left side.
Moving the view
Applies to: 3D surroundings view
To move the view, press and pull it in any direction using one finger.
To re-center the 3D surroundings, tap the camera image twice.
Tilting or rotating the views
Applies to: 3D surroundings view
To tilt or rotate the 3D surroundings, use your finger to drag it in any direction > fig. 131, on the right side.
To re-center the 3D surroundings behind the vehicle, tap the camera image twice.
Selecting a view in the side area
The vehicle surroundings are shown in the side area of the display. You can switch between a visual display (Graphic) and the vehicle surroundings (Camera).
Select > View in the center display when the parking aid is active.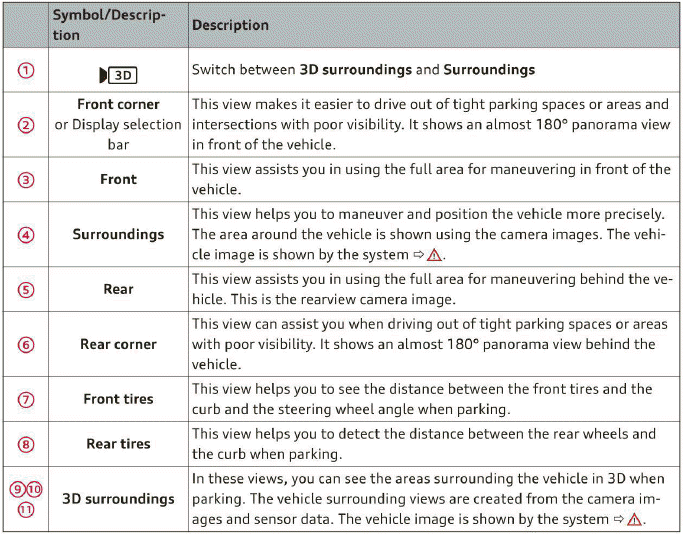 WARNING
Observe the safety precautions and note the limits of the assist systems, sensors, and cameras.
The Surroundings view is created from the individual camera images. The vehicle image is shown by the system. Objects and obstacles above the camera are not displayed.
Note
Only use the images provided by the camera on the rear of the vehicle when the luggage compartment lid is completely closed. Make sure any objects you may have mounted on the luggage compartment lid do not block the rearview camera.
Tips
Depending on the selected gear, it will automatically switch between the Front and Rear views. If you switch the view manually, the automatic front/rear camera change will be temporarily deactivated.
When first activated while a forward gear is engaged, the Front corner is displayed.
READ NEXT:
Description Applies to: vehicles with rear cross-traffic assist Fig. 132 Sensor Fig. 133 Center display: rear cross-traffic assist display General information The rear cross-traffic assist moni
General information Applies to: vehicles with park assist If your vehicle is equipped with park assist, this system helps you find suitable parking spaces. Parking spaces are measured using ultrasoni
Applies to: vehicles with assisted parking Fig. 136 Upper display: activated parking space search Activating the parking space search Press in the lower display. Or To activate the parking spac
SEE MORE:
Adaptive dampers Applies to: vehicles with suspension control The adaptive dampers are an electronically-controlled damping system. The firmness of the suspension will adapt to the driving conditions and the driving situation. The settings depend on the selected Audi drive select* mode. Air suspensi
Accessory weight means the combined weight (in excess of those standard items which may be replaced) of automatic transmission, power steering, power brakes, power windows, power seats, radio, and heater, to the extent that these items are available as factory-installed equipment (whether installed