Audi Q7: Tire pressure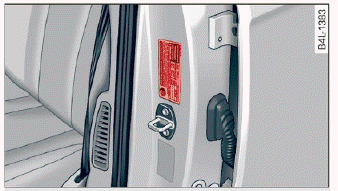 Fig. 172 Driver's side B-pillar: tire pressure label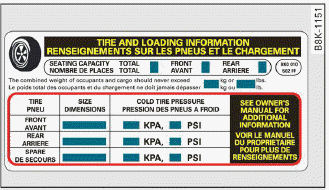 Fig. 173 Tire pressure label
The correct tire pressure for tires installed at the factory is listed on a label. The label is located on the B-pillar (driver's side) > fig. 172, > fig. 173. The location may vary depending on the model.
Use the tire pressure specified for a normal vehicle load when the vehicle is partially loaded > table. If driving the vehicle when fully loaded, you must increase the tire pressure to the maximum specified pressure

.
Checking and correcting tire pressure
Check the tire pressure at least once per month and also check it before every long drive.
Always check the tire pressure when the tires are cold. Do not reduce the pressure if it increases when the tires are warm.
Refer to the sticker > fig. 173 for the correct tire pressure.
Correct the tire pressure if necessary.
Save the changed tire pressure.
Check the pressure in the spare tire (compact spare tire)*. Always maintain the maximum temperature that is specified for the tire.
WARNING
Always adapt the tire pressure to your driving style and the vehicle load.
Overloading can lead to loss of vehicle control and increase the risk of an accident. Read and follow the important safety precautions.
The tire must flex more if the tire pressure is too low or if the vehicle speed or load are too high. This heats the tire up too much. This increases the risk of an accident because it can cause the tire to burst and result in loss of vehicle control.
Incorrect tire pressure increases tire wear and has a negative effect on driving and braking behavior, which increases the risk of an accident.
Note
Replace lost valve caps to reduce the risk of damage to the tire valves.
For the sake of the environment
Tire pressure that is too low increases fuel consumption.
Tire pressure table
Please note that the information contained in the following table was correct at the time of printing, and the information is subject to change. If there are any differences, you should always follow the tire pressure sticker fig. 172.
Make sure that the tire designation on your tire matches the designation on the tire pressure label and the tire pressure table.
The following table lists recommended tire pressures in cold tires according to the load and the size of the tires installed.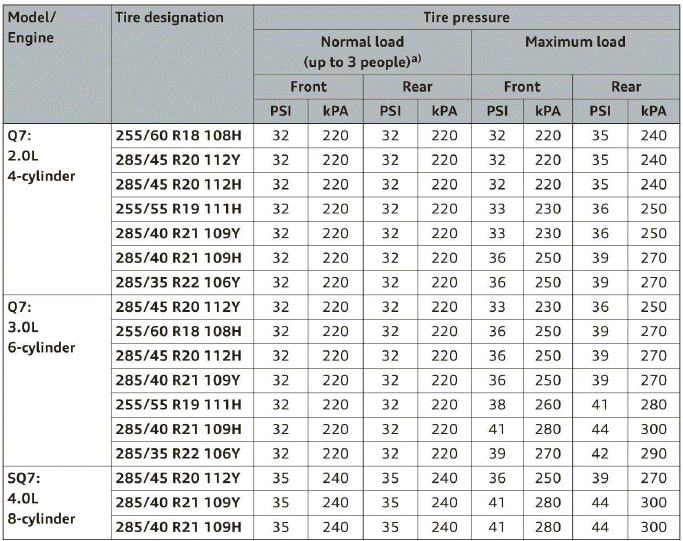 a) Two people in the front, one person in the rear
WARNING
Please note the important safety precautions regarding tire pressure and load limits.
READ NEXT:
There are limits to the amount of load or weight that any vehicle and any tire can carry. A vehicle that is overloaded will not handle well and is more difficult to stop. Overloading can not only lead
Winter tires significantly improve the vehicle's handling when driving in winter conditions. Because of their construction (width, compound, tread pattern), summer tires provide less traction on ice a
General notes Each tire, including the spare (if provided), should be checked monthly when cold and inflated to the inflation pressure recommended by the vehicle manufacturer on the vehicle placard o
SEE MORE:
Applies to: vehicles with cup holders Fig. 76 Front center console: cup holder Fig. 77 Center armrest in the second row*: cup holder Your vehicle has cup holders in the front center console, in the door pockets, in the center armrest in the second row seat*, and on the left and right side in
Applies to: vehicles with telephone Depending on your mobile device and the type of connection, the following options may be available during a call: End call Mute Sending a tone sequence Press Numbers. You can enter tone sequences (DTMF) and send them to the other party on the call. Hold Puts t