Audi Q7: Climate control system
Description
One of the following options may be available, depending on vehicle equipment:
A deluxe automatic climate control system with three zones where the temperature, air distribution, and air supply can be set separately on the left and right front sides, and the temperature can be set separately in the rear
A deluxe automatic climate control system with four zones to individually adjust the temperature, air distribution, and amount of ventilation at all of the seats
The climate control system warms, cools, dehumidifies, and filters the air in the vehicle interior.
It is the most effective when the windows and panoramic glass roof* are closed. If there is a build-up of heat inside the vehicle, ventilation can help to speed up the cooling process.
The deluxe climate control system automatically maintains a temperature once it has been set. In all heating mode functions except defrost, the blower only switches to a higher speed once the coolant has reached a certain temperature.
Active combination filter
When the fan is running, the filter will reduce particulate matter and the concentration of pollen, as well as odors in the interior.
For the sake of the environment
Energy can be saved by switching off the A/C mode.
Tips
Operation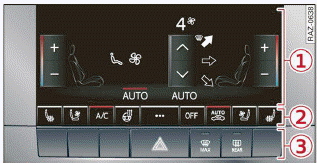 Fig. 88 Center console: lower display and switch panel
Settings are adjusted using both displays, the switch panel in the center console, and the control panel in the rear. For information on how to operate the touch displays, see > Touch displays.
You can adjust all climate control system settings in the front; only certain functions are available in the rear.
Lower display
The lower display has two sections with controls: You can regulate the blower and the air distribution automatically using AUTO in area (1). You can also apply individual settings here.
In area (2), you can switch individual climate control system functions on and off.
Switch panel in the center console
Both the

and

buttons to defog windows as quickly as possible are located in area (3).
Upper display
In the upper display, you can switch additional functions on and off, display them, and adjust settings.
Applies to: MMI: Select on the home screen: VEHICLE > Air conditioning, or
Press on the lower display.
Control panel in rear
You can operate certain climate control functions in the rear using the control panel.
Customizing
A climate control function from the upper display can be assigned to each button to the left and right of

in area (2).
READ NEXT:
Press the buttons to turn the functions on or off. One bar in the button or the LED in the button will light up when the function is switched on. Some buttons can have several functions assigned to
You can open and close the vents using the thumbwheels. The levers adjust the direction of the airflow from the vents. Additional settings You can adjust additional settings. Applies to: MMI: Sel
Refrigerant in the A/C system The sticker in the motor compartment provides information about the type and amount of refrigerant used in the vehicle's A/C system. The sticker is located in the front s
SEE MORE:
Fig. 5 Upper display: adjusting the display Switching the view Press the VIEW button to switch between the default view (1) and the enhanced view (2). Adjusting the layout Depending on the vehicle equipment, various layouts may be available. Applies to: MMI: Select on the home screen: SETT
Displayed connected devices Requirement: the vehicle must be stationary and the ignition must be switched on. Applies to: MMI: Select on the home screen: SETTINGS > Connected devices. Possible menu items: Telephone 1 Telephone 2 Audio player Wi-Fi hotspot Headset Audi smartphone interf