Audi Q7: Exit warning
Description
Applies to: vehicles with exit warning system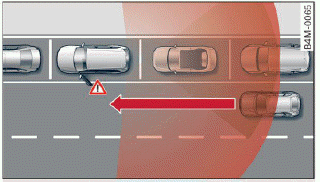 Fig. 121 Approaching traffic detected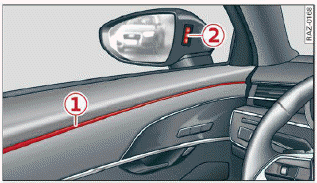 Fig. 122 Front door: exit warning
General information
Within system limits, the exit warning system can detect traffic approaching from behind such as vehicles, and provide assistance based on this information when you are exiting the vehicle => fig. 121. The system uses the data from the radar sensors at the rear corners of the vehicle.
Displays and warnings
If a door is opened while the vehicle is stationary, the warning strip (1) on that door and the display (2) on that side of the vehicle will blink if another road user is detected in a critical situation. If another road user that is classified as critical is approaching while a door is already open, the displays on that door will turn on.
The same messages apply for the exit warning system and side assist.
Switching the exit warning on and off
You can switch the system on and off in the MMI.
WARNING
Tips
The exit warning is switched on or off by the side assist warning.
The exit warning system can be available for up to approximately three minutes after unlocking the vehicle and opening the door as well as after switching off the ignition. Then the displays flash briefly and the system switches off.
The display brightness for the exit warning system cannot be adjusted.
The coverage areas of the sensors > fig. 121 are diagrams and do not represent a true-to- scale image of the sensor ranges.
The system complies with United States FCC regulations and ISED regulations.
READ NEXT:
Description Fig. 123 Detected cross-traffic Fig. 124 Instrument cluster: directional display from the intersection assistant General information The intersection assistant can warn the driver of
Description Applies to: vehicles with emergency assist General information Within the limits of the system, emergency assist can detect inactivity from the driver. In these instances, the system wil
SEE MORE:
Sensor and camera coverage areas Fig. 96 Sensor coverage area Fig. 97 Rearview camera coverage area The assist systems analyze the data from various sensors and cameras installed in the vehicle. Do not use any assist systems if there is damage in there area of the sensors and cameras or on the v
Description Applies to: vehicles with distance warning Applies to: vehicles with adaptive cruise control: Fig. 116 Instrument cluster: display of the current distance Applies to: vehicles with Audi adaptive cruise control Fig. 117 Instrument cluster: distance warning General information A