Audi Q7: Steering wheel
General information
Make sure that:
The distance between your upper body and the steering wheel is at least 10 inches (25 cm)
Your arms are bent slightly at the elbows
You have a sufficient view of the area around the vehicle and you have a clear view of the instrument cluster and head-up display.
You are always holding the steering wheel with both hands on the outer edge at the sides (9:00 and 3:00 position) when driving
WARNING
To reduce the risk of an accident, make sure the steering wheel is adjusted correctly and cannot be moved out of position before you start to drive.
If you are too close to the steering wheel, the driver's airbag cannot provide optimal protection, which increases the risk of injury or fatality.
Never hold the steering wheel in the 12:00 position or in any other way, such as holding the center of the steering wheel. Otherwise, your arms, hands, and head could be injured in the event that the driver's airbag deploys.
Power steering wheel position adjustment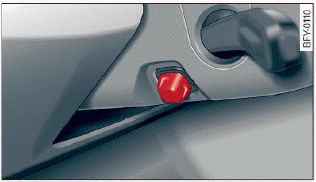 Fig. 59 Steering column: switch for adjusting the steering wheel position
The steering wheel position can be adjusted electrically up/down and forward/back.
To adjust the steering wheel, press the button in the direction in which you would like the steering wheel to move.
The steering wheel can also be adjusted when the ignition is switched off.
READ NEXT:
General information Applies to: vehicles with adjustable head restraints Fig. 60 Correctly-adjusted head restraint Make sure that: The upper edge of the head restraint is as even as possible with
General information Each seat is equipped with a three-point safety belt. Safety belts that are worn correctly are the most effective way to reduce the risk of serious or fatal injuries in a collision
Fig. 65 Belt buckle and belt latch Fig. 66 Releasing the belt buckle from the belt latch Observe the safety precautions. Fastening the safety belt Pull the safety belt by the belt buckle evenly
SEE MORE:
Applies to: vehicles with Audi adaptive cruise control and efficiency assist Fig. 111 Instrument cluster: speedometer: predictive control display With predictive control, efficiency assist adapts the set speed in adaptive cruise control (1) based on detected speed limits and the upcoming route. O
Description Applies to: vehicles with exit warning system Fig. 121 Approaching traffic detected Fig. 122 Front door: exit warning General information Within system limits, the exit warning system can detect traffic approaching from behind such as vehicles, and provide assistance based on this