Audi Q7: Surrounding area detection
Sensor and camera coverage areas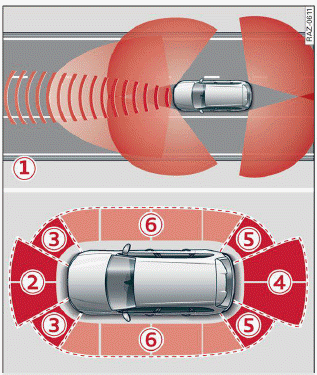 Fig. 96 Sensor coverage area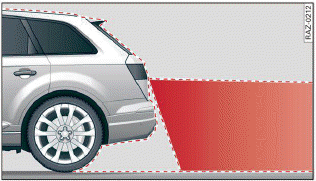 Fig. 97 Rearview camera coverage area
The assist systems analyze the data from various sensors and cameras installed in the vehicle. Do not use any assist systems if there is damage in there area of the sensors and cameras or on the vehicle underbody. Damage can impair the function of the sensors and cameras or cause malfunctions.
Have an authorized Audi dealer or authorized Audi Service Facility check their function.
Radar sensors
Depending on the vehicle equipment, the area in front of and behind the vehicle may be detected > fig. 96(1).
The wheel sensors on the rear corners of the vehicle are positioned so that the adjacent lanes to the left and right are detected on roads with a normal lane width.
Ultrasonic sensors
Depending on vehicle equipment, various areas may be displayed in the MMI using the ultrasonic sensors > fig. 96.
The range of the displays depends on the location of the ultrasonic sensors:
Approximately 4 feet (1.20 m)
Approximately 3 feet (0.90 m)
Approximately 5.2 feet (1.60 m)
Approximately 3 feet (0.90 m)
Approximately 3 feet (0.90 m)
The side area (6) is detected and evaluated when passing. There may have been changes to the surrounding area after switching the ignition off and on again, after opening the doors, or if the vehicle is left stationary for a period of time. In this case, the area will appear black until the area has been detected and evaluated.
Cameras
Use the camera image on the display to assist you only if it shows a good, clear picture. Keep in mind that the image in the display is enlarged and distorted. Under certain circumstances, objects may appear different and unclear on the display.
The rearview camera can only detect the area marked in red > fig. 97. Only this area is displayed on the center display

.
WARNING
Sensors and cameras have spots in which the surrounding area cannot be detected. Objects, animals, and people may only be detected with limitations may not be detected at all.
Always monitor the traffic and the vehicle's surroundings directly and do not become distracted.
Note
Obstacles may disappear from the measurement range when approaching them, even if they were already detected.
In some situations, the ability of the sensors and cameras to detect and display certain objects may be limited.

Objects located above the coverage area, such as bumpers on parked cars, garage doors that are partially open, or objects that are hanging
Low obstacles
Narrow objects, such as barrier chains, foliage, poles, or fences
Projecting objects, such as trailer draw bars
Objects with certain surfaces and structures, such as fabric
Tips
READ NEXT:
Fig. 98 Front area: sensors and cameras Fig. 99 Rear area: sensors and cameras Front area Depending on the vehicle equipment, the following sensors and cameras may be installed: Laser scanner in
Description Applies to: vehicles with speed warning system The speed warning system helps the driver to stay below a specified maximum speed. A warning threshold can be set in the MMI for this purpo
SEE MORE:
Introduction Applies to: vehicles with navigation system and online traffic information Fig. 153 traffic information overview Open traffic information Requirement: the map must be displayed. Press on the traffic jam symbol in the side menu on the map fig. 149. Display traffic report details
Applies to: vehicles with Audi connect Depending on the country and the vehicle equipment, the following functions may be available: Audi connect Infotainment Audi connect vehicle control WARNING To reduce the risk of an accident, only use Audi connect services and the Wi-Fi hotspot only if