Audi Q7: Technical data
Identification data
Vehicle data label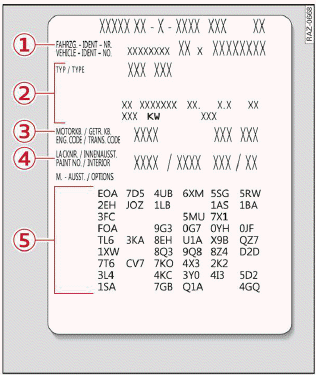 Fig. 198 Vehicle identification label
The vehicle identification label > fig. 198 is located in the luggage compartment under the cargo floor cover.
The vehicle identification label information can also be found in the Warranty & Maintenance booklet.
The sticker contains the following vehicle data:
Vehicle Identification Number (VIN)
Vehicle type, motor output, transmission
Motor and transmission codes
Paint and interior codes
Optional equipment numbers
Vehicle identification number (VIN)
The VIN is located in the following areas:
Applies to MMI: Select on the home screen: VEHICLE > Settings & Service > Vehicle information.
On the vehicle identification label
At the front behind the windshield*
Stamped into the motor compartment on the right side
Notes about technical data
The values may vary based on special equipment as well as market-specific equipment and measuring methods.
Please note that the specifications listed in the vehicle documentation always take precedence.
Tips
Any technical data that is missing was not available at the time of printing.
Vehicle data
Dimensions

Capacities

A/C system refrigerant oil
The exact type and amount of refrigerant oil in the A/C system is specified on the sticker on the refrigerant compressor.

Weights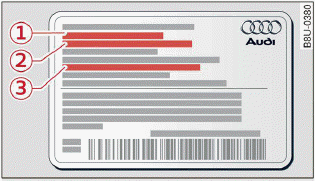 Fig. 199 Safety certificate
Gross Vehicle Weight Rating (GVWR)
The maximum permitted total weight (1) of the vehicle is listed on the safety certificate on the side area of the door or on the driver's door pillar.
Gross Axle Weight Rating (GAWR)
The maximum permitted load on the front axle (2) or the rear axle (3) is listed on the safety certificate on the side area of the door or on the driver's door pillar.
Load
The maximum permitted load is listed on the tire pressure label on the driver's door pillar.
Roof load
The maximum permitted roof load is 220 lbs (100 kg).
Trailer load

READ NEXT:
Online Car Care Applies to: vehicles with Online Car Care If new messages from Online Car Care are available, they will be displayed in the MMI when you switch on the ignition. Applies to: MMI: To a
SEE MORE:
Regular, proper care helps to maintain your vehicle's value. It can also be a requirement when submitting warranty claims for corrosion damage and paint defects on the body. The required cleaning and care products can be obtained from an authorized Audi dealer or authorized Service Facility. Read a
General information Check your tires regularly for damage, such as punctures, cuts, cracks, and bulges. Remove foreign objects from the tire tread. If driving over curbs or similar obstacles, drive slowly and approach the curb at an angle. Have faulty tires or rims replaced immediately.