Audi Q7: Tire mobility kit
Preparation
Applies to: vehicles with tire mobility kit
Read and follow the important safety precautions.
Set the parking brake.
Select the "P" selector lever position.
Check if a repair with the tire mobility kit is possible.
Using tire mobility kit
Applies to: vehicles with tire mobility kit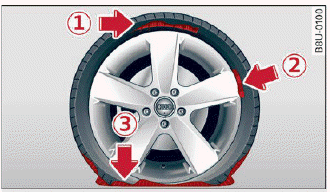 Fig. 175 Tire: tire damage that cannot be repaired
The tire repair is only meant for temporary use.
Change the damaged tire as soon as possible

.
If the tire is pierced by an object such as a nail, do not remove the object from the tire.
The tire mobility kit can be used at temperatures as low as -4 ºF (-20 ºC).
The tire mobility kit must not be used:
If the tire has cuts or punctures that are larger than 0.16 inch (4 mm) (1) > fig. 175
If the rim is damaged (2)
If you have driven with very low tire pressure or without air in the tire (3)
See an authorized Audi dealer or authorized Audi Service Facility for assistance in these situations.
WARNING
For the sake of the environment

Batteries and electrical/electronic devices must be disposed of in an environmentally safe manner.
Tips
READ NEXT:
Applies to: vehicles with tire mobility kit Fig. 176 Components of the tire mobility kit Fig. 177 Tire mobility kit connection Requirement: the tire mobility kit must be laid out and ready for use
Preparation You must complete the preparation before changing a tire. Read and follow the important safety precautions. Set the parking brake. Select the "P" selector lever position. When towing
Applies to: vehicles with vehicle jack Fig. 181 Sill panels: markings Fig. 182 Sill: positioning the vehicle jack Place the vehicle jack from the vehicle tool kit on a firm surface. Use a flat,
SEE MORE:
General information Applies to: vehicles with memory function With the memory function, you can save and call up seat profiles using the memory buttons in the door trim panel. Depending on vehicle equipment, some settings such as the driver's seat and exterior mirror position can be stored. Storing
Fig. 168 Engine compartment: connectors for a charger or jump start cables Observe the safety precautions > General information, in Battery general information . Requirement: only use chargers with a maximum charging current of 14.8 volts. The battery cables remain connected. The charging cabl